Singer/Songwriter
'
 
Sam lives with his wife Anne in NE Ohio. He is a singer/songwriter, mountain dulcimer player and Ohio Certified Volunteer Naturalist. He volunteers at the Cuyahoga National Park and Summit County Metro Parks enjoying the outdoors and associated wildlife. In retirement, Sam started composing music about local fauna and flora and the project took on a life of it's own. He has recorded 3 CDs entitled "Songs of the Woods," "Songs of the Woods Too," and "Songs of the Woods Only Footprints." Music samples can be listened to by selecting the LINK BELOW or in the AUDIO section. LOOK FOR MY NEW CD "Songs of the Woods Odds and End"  
Songs of the Woods Only Footprints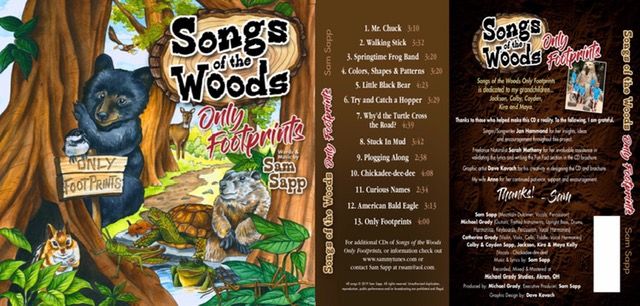 Songs of the Woods & Songs of the Woods Too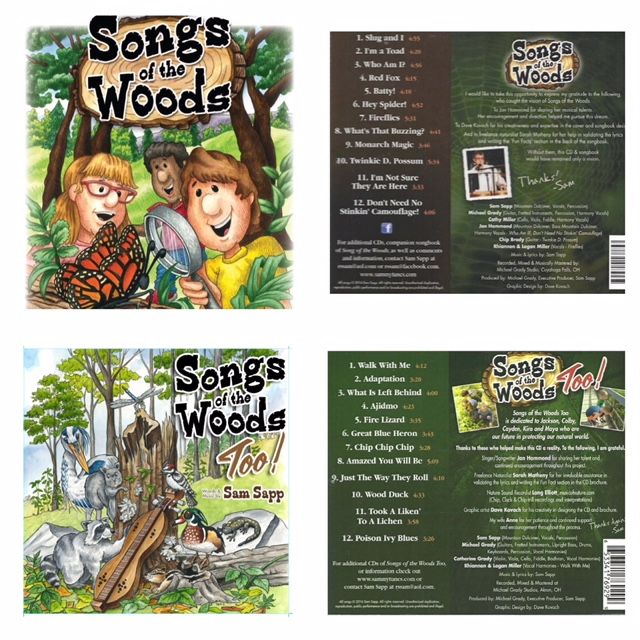 These tunes are filled with fun fact lyrics about common woodland creatures. Animals and plants like red foxes, toads, fireflies, Monarch butterflies, spiders, skunks, squirrels, chipmunks, beavers, woodchucks, lichens and poison ivy, Frogs, black bears, bald Eagles, chickadees are examined through Sam's eye in a lyrical and musical fashion.
This musical odyssey would not have been possible without the help from some very creative and talented individuals. Singers/songwriters/musicians Jan Hammond, Michael Grady, and Catherine Grady. Graphic artist Dave Kovach, and freelance naturalist Sarah Matheny. To all I am grateful.
All are available for listening on these popular streaming sites.

CDs may be purchased on Amazon.com or directly from Sam. To order CDs or For information about my CDs send Sam an email at: rssam@aol.com