THANK YOU for visiting sammytunes.com
Meet Singer/Songwriter Sam Sapp and explore: "Songs and Tails from the Woods," a music & nature program for all ages and Music CDs "The Songs of the Woods,"  "Songs of the Woods Too," "Songs of the Woods Only Footprints." and soon to be released "Songs of the Woods Odds and Ends."
To Listen, check the LINK BELOW or the AUDIO Page.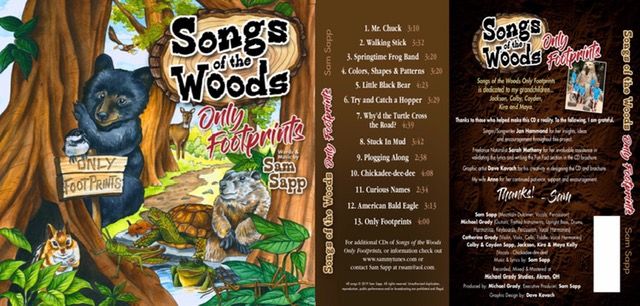 SPECIAL ANNOUNCEMENT! 
Freelance naturalist Sarah Matheny and I have teamed up to create an entertaining and unique educational "Nature Happening" called:
 Songs and "Tails" From the Woods
Through original music, multimedia slide show and creative learning the natural world comes alive to the audience of all ages. We have been performed for over 5000 young and old since 2015 at schools, home school groups, senior citizen groups, libraries, nature centers, Cuyahoga Valley National Park, citizen's groups, scout groups, preschools and more. The fee for our program is $75 for an hour interactive program.
(Our fees are REDUCED OR WAIVED for non-profit and schools etc.).
If you would like additional information or a copy of Songs and "Tails" from the Woods brochure please get in touch with Sam directly at email address: rssam@aol.com.
We are currently setting up programs for 2021 and beyond. If you are interested in setting up a program and checking on our availablity please email Sam at rssam@aol.com. 
Thank you!
THANK YOU FOR YOUR SUPPORT!
Check out the CALENDAR to see where we have been
and where we are going.